12 Sep

Balanced Effectiveness at Work: The Book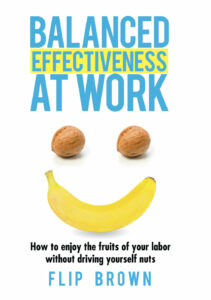 A resiliency manual for anyone who works for a living!
Balanced Effectiveness At Work: How To Enjoy The Fruits Of Your Labor Without Driving Yourself Nuts…
…is a useful compendium of tips, tools, and techniques to make being at work work better. Within each chapter there are conceptual definitions, sample scenarios, frank assessments, "Flip's Tips," action plans for real traction, and positive reinforcement. With a light-hearted but in-depth look at twenty-four wide-ranging topics, presented in a unique news-you-can-use format, it will provide you with real options, helpful resources, and renewed optimism.